I'm very excited about this giveaway!
Now, I haven't ever agreed to a giveaway that isn't in the "spirit" of this blog... that is, I keep things focused on what this blog is about. However, this time the giveaway has nothing to do with bento, lunch, or food.
But I am a woman, a mother, and I like pretty things. I'm (not really) going out on a limb to assume that 99.9% of Another Lunch readers are also women, family oriented, and enjoy pretty things. :) Therefore, ergo, alakazam, spiffywiffy, I think you will also like The Rusted Chain.
The Rusted Chain is a mom-made jewelry company. Very etsy-esque, without the actual etsy. In fact, each piece is hand made by stay-at-home mom Becki and shipped from her Kansas farmhouse!
The Rusted Chain is offering TWO gift certificates for $25 for their online shop to Another Lunch readers! That means two winners! Yay us! :)
Take a gander at some of this adorable hand-stamped jewelry...
There are personalized options, like this lovely sterling silver circle piece that jumped out at me (Evelyn is (one of) my Paige's middle names), sigh. :)
These personalized "two tabs" necklaces are pretty and nifty too...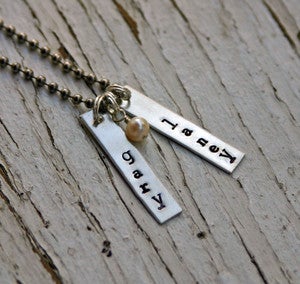 Oh, did I say The Rusted Chain wasn't at all food related? I lied. A little. Look at this darling "life is sweet" cupcake necklace.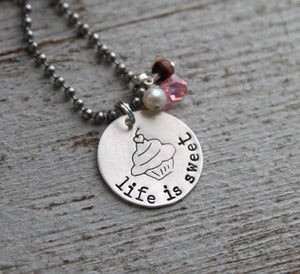 Maybe you aren't interested in hand-stamped or mom-crafted jewelry? Well, no bother. The gift-giving season is fast approaching! Perhaps The Rusted Chain could put a smile on the face of a special friend or family member! Or for the terrific teacher your tot is taught by...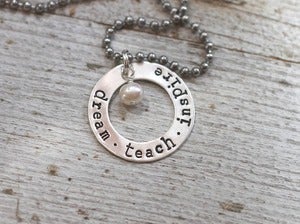 The Rusted Chain not only carries a wide variety of necklaces, but also earrings, bracelets and even some items for men. I don't actually have pierced ears any more, but if I did I'd be happy to have these gems dangling from my lobes...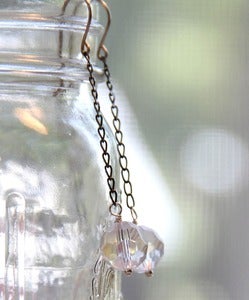 I'm also really fond of the Honeysuckle earrings. Even the name is scrumptious!
Now to the nitty gritty: HOW TO ENTER this rad giveaway.
Mandatory entry: leave a comment saying "The Rusted Chain floats my boat!". Bonus points if you visit their shop and name a piece you think is particularly dandy (that doesn't earn you a second entry, but it would be really nice of you!) ** 1 entry
Optional extra entry: for another entry to this giveaway you can "like" The Rusted Chain on Facebook. Leave a comment saying you are a Rusted Chain on Facebook liker if you do this. ** 1 entry
Optional entry #2: for yet another entry for this giveaway you can become a follower of The Rusted Chain blog and/or subscribe them by email. Leave a separate comment if you become a Rusted Chain blog follower/subscriber. ** 1 entry
Optional entry #3: tweet about this giveaway (with a link to this giveaway post). Leave a separate comment if you do this, with a link to the tweet. ** 1 entry
So there ya have it... 4 ways to enter the giveaway. And there will be two winners. Those are pretty fair odds!
This contest will run until 11ish on Monday, November 14. Winners will be chosen at random and announced on Tuesday, November 15.
The Rusted Chain has also generously offered a promotional code to Another Lunch readers! For a limited time, you can receive a 15% discount off your order by using coupon code LUNCH15. This promotional code will expire Friday, November 18, 2011.
** disclosure: I was not comp'ed, perked, or paid for this giveaway. I'm just passing on a sweet offer from this company to you, cuz I likes you guys a lots. :) **smooches!
-- this giveaway is now closed. The winners of The Rusted Chain prizes:
The Rusted Chain is offering a 15% discount to all Another Lunch readers through Friday, November 18, 2011.